ACCESS is delivered across two consecutive semesters, beginning with an 8-week active phase followed by a semester-long maintenance phase.
During the active phase, students participate in 8 weekly 90-minute CBT group sessions. In each group session, students receive information that increases their knowledge of ADHD, use of behavioral strategies, and adaptive thinking skills.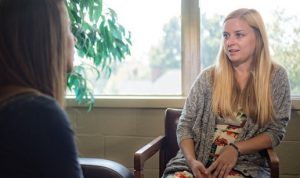 Students also have an opportunity to hear representatives from various campus support units describe their services (e.g., disability accommodations). One additional benefit of the group format is that it promotes cohesion and social connections among the participants.
Concurrent with the group sessions, students receive 8-10 weekly 30-minute individual sessions with a mentor. Mentors serve multiple functions, including:  (1) monitoring and fine tuning what the student has learned from the group, (2) setting and monitoring attainment of student goals, and (3) assessing the student's need for disability accommodations, counseling, and other campus resources.
ACCESS includes a semester-long maintenance phase to ensure that students have an opportunity to continue practicing and refining the skills learned during the active phase. To achieve this goal, students first attend one booster CBT group session at the start of the semester, after which they receive 4-6 individual mentoring sessions scheduled throughout the semester.